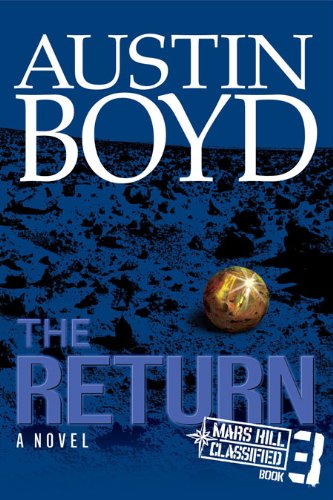 In the exciting conclusion of the Mars Hill Classified trilogy, the past collides with the future as Captain John Wells once again finds himself on Mars. Nothing, on Mars or on Earth, is as it seems, and it's up to Captain Wells to expose the truth. Will he have the courage to do it? Read The Return to find out.
About the Book
Synopsis
Is seeing believing?
With nothing left for him on Earth, Rear Admiral John Wells didn't hesitate to lead a third NASA team to Mars, but he never dreamed that one day they'd look out their laboratory module into the lights of a slow-moving vehicle not their own. In the third installment of the Mars Hill Classified series, life on Mars becomes increasingly more unpredictable as the past collides with the future, and nothing, not even the dead, is as it seems.
Meanwhile, back on Earth, the fate of hundreds, including John Wells' family—presumed dead these last six years—rests precariously in the hands of Malcolm Raines, self proclaimed Guardian of the Mother Seed and Principal Cleric of Saint Michael's Remnant, and his insidious plans for the Father Race.
Wells will find himself in a race against time and all odds to expose the truth: about Mars, about Malcolm Raines, and, if he's very brave, about himself.
The Return, the final chapter for John Wells and his family, and an early preview of bioethics plots to be developed in Austin Boyd's next novels.
Purchase an autographed copy
$8, signed by the author, shipping included, when you buy through PayPal.
What folks are saying
"Intelligent suspense at its finest. Boyd weaves an intense and surprising story, making you care deeply for the characters. Complex and compelling drama."
– Mary E. DeMuth, award winning author of The Defiance Trilogy and memoir Thin Places
"Austin Boyd is one of the brightest new voices in Christian fiction. His long association with the space program lends authenticity as he reveals the turmoil in the minds and hearts of those who are willing to risk everything by making that journey. In The Return we learn that both human emotions and God's presence reach far beyond the pull of Earth's gravity."
– Richard Mabry, MD, author of The Tender Scar and Code Blue
"A rare treat: both a gripping story and a genuine and entertaining testimony of faith."
– J. Edward Culpepper, PhD, pastor and writer
Listen to the first three chapters



Other Books in "Mars Hill Classified trilogy"
Disclosure of Material Connection: Some of the links in the page above are "affiliate links." This means if you click on the link and purchase the item, I will receive an affiliate commission. I am disclosing this in accordance with the Federal Trade Commission's
16 CFR, Part 255
: "Guides Concerning the Use of Endorsements and Testimonials in Advertising."